This is a collection of pictures from Iceland, the result of a trip in 2016 in the western part of the country.
Find all Iceland entries on this link. You will find this picture gallery page, a World Heritage Site and regular travelogues.
Click on the gallery to reveal all pictures from Iceland.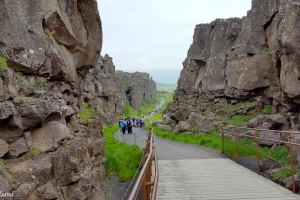 A visit to Iceland with pictures from Reykjavik, The Golden Circle and a roundtrip of the Snæfellsnes peninsula.
134 Photos
View all photo galleries on Sandalsand.
Fast facts about Iceland
Want to learn more than just a look at pictures from Iceland? Learn about the country on Wikipedia. Here is an introduction based on it.
Iceland is a Nordic island country in the North Atlantic Ocean and the most sparsely populated country in Europe. Iceland's capital and largest city is Reykjavík. Along with its surrounding areas, it is home to over 65% of the population. Iceland is the only part of the Mid-Atlantic Ridge that rises above sea level; and its central volcanic plateau is erupting almost constantly. The interior consists of a plateau characterised by sand and lava fields, mountains, and glaciers. Many glacial rivers flow to the sea through the lowlands. Iceland is warmed by the Gulf Stream and has a temperate climate; despite a high latitude just outside the Arctic Circle. Its high latitude and marine influence keep summers chilly, and most of its islands have a polar climate.
Iceland has a market economy with relatively low taxes, compared to other OECD countries. It maintains a Nordic social welfare system that provides universal health care and tertiary education for its citizens. Iceland ranks high in economic, democratic, and social stability, as well as equality. It ranks third in the world by median wealth per adult. In 2020, it ranked as the fourth-most developed country in the world. It also ranks first on the Global Peace Index. Iceland runs almost completely on renewable energy.