This is a photo of a young lady in the Royal Palace of Phnom Penh, Cambodia. I was wandering around looking up on the wonderful gables or something when she came up the stairs, stopped and took up position right in front of me. 
With a big smile on her face, she was clearly ready for a picture. She spoke no English. Apparently her job was to welcome tourists to the marvellous palace area. The famous smiles of Southeast Asia have almost always been earnest, is my experience.
In South Asia I have been to three of eight independent countries, in Southeast Asia to seven of 11, in total 10 of 19.
Click a country name in the list above and find all articles from that particular country. On the map, the yellow coloured countries are Sandalsand's nine non-visited countries.
Map of South and Southeast Asia. Sandalsand has been to countries marked green, not the yellow ones. (Map source: Wikimedia Creative Commons Attribution-Share Alike 4.0 International)
Open the box to view Sandalsand's galleries from this region.
Click to show or hide
For the best experience, open a picture gallery in a new tab or window.
Posts from South and Southeast Asia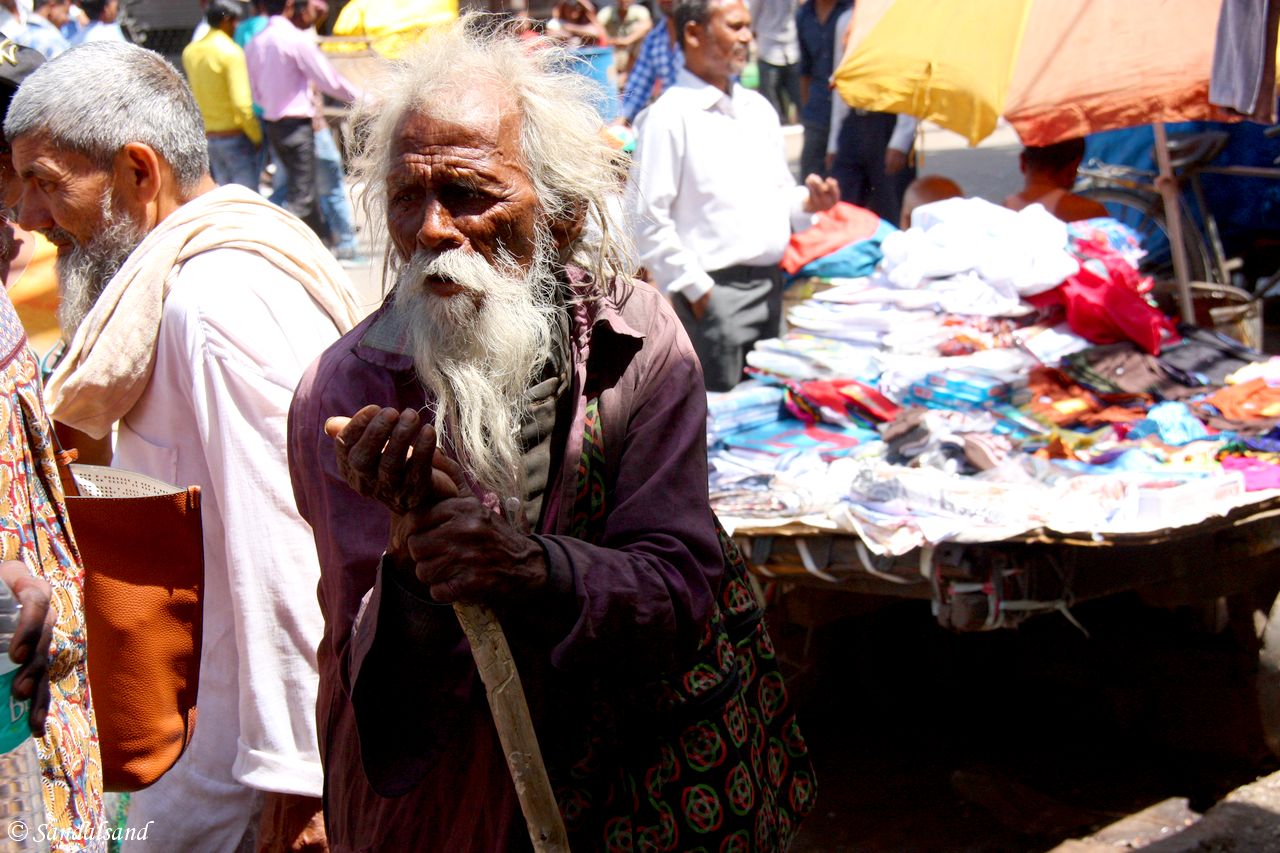 This is a collection of pictures from India, the result of a trip in 2017 to Delhi, Jaipur and Agra - the Golden Triangle. Have a look at all India...
Poverty with dignity is better than wealth based on shame. (Buddhist saying)
The Indian Ocean is to the south and on land (clockwise, from west) West Asia, Central Asia, East Asia, and Southeast Asia. This is Wikipedia's introduction to this region (or regions).
South Asia
Map and numbers
Area: 5.2 million km2
Countries: Afghanistan, Bangladesh, Bhutan, India, Maldives, Nepal, Pakistan, as well as Sri Lanka.
Population: 1.749 billion (2013)
Nominal GDP: $3.12 trillion
PPP GDP: $11.67 trillion
Geography
South Asia covers about 5.2 million km2, which is 11.71% of the Asian continent or 3.5% of the world's land surface area.
South Asia or Southern Asia (also known as the Indian subcontinent) is a term used to represent the southern region of the Asian continent. On the whole, it comprises the sub-Himalayan SAARC countries and, for some authorities, adjoining countries to the west and east. Topographically, it is dominated by the Indian Plate, which rises above sea level as Nepal and northern parts of India situated south of the Himalayas and the Hindu Kush. The Indian Ocean is to the south and on land (clockwise, from west) West Asia, Central Asia, East Asia, and Southeast Asia.
The South Asian Association for Regional Cooperation (SAARC) is an economic cooperation organisation in the region. It was established in 1985 and includes all eight nations comprising South Asia.
Population
The population of South Asia is about 1.749 billion or about one fourth of the world's population, making it both the most populous and the most densely populated geographical region in the world. Overall, it accounts for about 39.49% of Asia's population, over 24% of the world's population, and is home to a vast array of peoples.
In 2010, South Asia had the world's largest population of Hindus, Jains and Sikhs. It also has the largest population of Muslims in the Asia-Pacific region, as well as over 35 million Christians and 25 million Buddhists.
Source
Southeast Asia
Map and numbers
Region: Southeast Asia
Area: 4,545,792 km2
Population: 641,775,797
Population density: 135.6/km2
Nominal GDP: $2.557 trillion
PPP GDP: $7.6 trillion
GDP per capita: $4,018
HDI: 0.684
Demonym: Southeast Asian
Countries: 11 states
Dependencies: Christmas Island, Cocos (Keeling) Islands
Geography
Overall, Southeast Asia or Southeastern Asia is a subregion of Asia. It consists of countries that are geographically south of China, east of India, west of New Guinea and north of Australia. Southeast Asia is bordered to the north by East Asia, to the west by South Asia and Bay of Bengal, to the east by Oceania and Pacific Ocean, and to the south by Australia and Indian Ocean. The region is the only part of Asia that lies partly within the Southern Hemisphere, although the majority of it is in the Northern Hemisphere. Summing up, Southeast Asia consists of two geographic regions:
1. Mainland Southeast Asia, also known historically as Indochina, comprises Vietnam, Laos, Cambodia, Thailand, Myanmar, and West Malaysia.
2. Maritime Southeast Asia, is also known historically as the East Indies and Malay Archipelago. Specifically it comprises Indonesia, East Malaysia, Singapore, Philippines, East Timor, Brunei, Christmas Island, the Andaman and Nicobar Islands of India, and the Cocos (Keeling) Islands. Taiwan is also included by many anthropologists.
More
Otherwise, the region lies near the intersection of geological plates, with heavy seismic and volcanic activities. The Sunda Plate is the main plate of the region, features almost all Southeast Asian countries except Myanmar, northern Thailand, northern Vietnam, and northern Luzon of the Philippines. The mountain ranges in Myanmar, Thailand, and peninsular Malaysia are part of the Alpide belt. Further the islands of the Philippines are part of the Pacific Ring of Fire. Both seismic belts meet in Indonesia, causing the region to have relatively high occurrences of earthquakes and volcanic eruptions.
Overall, Southeast Asia covers about 4.5 million km2, which is 10.5% of Asia or 3% of earth's total land area. Its total population is more than 641 million, about 8.5% of world's population. It is the third most populous geographical region in the world after South Asia and East Asia. The region is also culturally and ethnically diverse, with hundreds of languages spoken by different ethnic groups. Ten countries in the region are members of ASEAN. This is a regional organisation established for economic, political, military, educational and cultural integration amongst its members.
Source
Wikipedia with some alterations. Both descriptions are on a Creative Commons Attribution-ShareAlike License. Date: 2018-06-22