This is a collection of pictures from Nepal, the result of a trip in 2015 around the central and southern part of the country.
Find all Nepal entries on this link. You will find this picture gallery page, articles from World Heritage Sites and regular travelogues.
Click on the gallery to reveal all pictures from Nepal.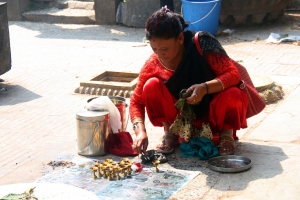 Images from a visit to Kathmandu and Kathmandu Valley, as well as Chitwan. You will find mountains, temples, animals and a jungle in this collection.
193 Photos
View all photo galleries on Sandalsand in one place, here.
Fast facts about Nepal
Want to learn more than just a look at pictures from Iceland? Learn about the country on Wikipedia. Here is an introduction based on it.
Nepal, officially the Federal Democratic Republic of Nepal, is a landlocked country in South Asia. It is mainly situated in the Himalayas, but also includes parts of the Indo-Gangetic Plain, bordering Tibet of China to the north, and India in the south, east, and west, while it is narrowly separated from Bangladesh by the Siliguri Corridor, and from Bhutan by the Indian state of Sikkim. Nepal has a diverse geography, including fertile plains, subalpine forested hills, and eight of the world's ten tallest mountains, including Mount Everest, the highest point on Earth. Nepal is a multi-ethnic, multi-lingual, multi-religious and multi-cultural state, with Nepali as the official language. Kathmandu is the nation's capital and the largest city.
Tourism
Tourism is one of the largest and fastest-growing industries in Nepal. It employes more than a million people and contributing 7.9% of the total GDP. The number of international visitors crossed one million in 2018 for the first time (not counting Indian tourists arriving by land). Nepal's share of visitors to South Asia is about 6%. They spend much less on average, with Nepal sharing 1.7% of the earnings. Premier destinations include Pokhara, the Annapurna trekking circuit and the four UNESCO world heritage sites; Lumbini, Sagarmatha National Park (home to Mount Everest); seven sites in the Kathmandu Valley are collectively listed as one, and Chitwan National Park. Most of Nepal's mountaineering earning comes from Mount Everest, which is more accessible from the Nepalese side.
Nepal, officially opened to westerners in 1951. It became a popular destination at the end of the hippie trail, during the 1960s and 1970s. The industry, disrupted by the civil war in the 1990s, has since recovered but faces challenges to growth, owing to a lack of proper facilities for high-end tourism termed the "infrastructure bottleneck", the flag carrier in shambles, and a handful of destinations properly developed and marketed.