This is a collection of pictures from Liechtenstein, the result of an ultra short visit in 2002. We drove through the country and only made a short stop in Vaduz.
If you look up all articles from Liechtenstein, you will find little else. Before you do, start with these pictures from Liechtenstein.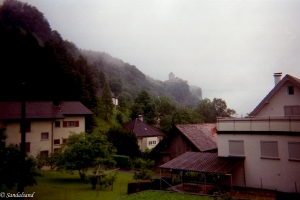 We were on a road trip from in Switzerland and Liechtenstein was on a slight detour from the main road.
3 Photos
Afterwards, find more photo galleries on Sandalsand.
Fast facts
Learn about the country on Wikipedia. Here is a moderated excerpt:
Liechtenstein is a German-speaking microstate located in the Alps between Austria and Switzerland. It is a constitutional monarchy under the Prince of Liechtenstein.
Liechtenstein borders Switzerland to the west and south and Austria to the east and north. It's Europe's fourth-smallest country, with an area of just over 160 square kilometres and a population of 38,749. Divided into 11 municipalities, its capital is Vaduz, and its largest municipality is Schaan. It is also the smallest country to border two countries. Liechtenstein is one of only two doubly landlocked countries in the world; the other being Uzbekistan.
Economically, Liechtenstein has one of the highest gross domestic products per person in the world when adjusted for purchasing power parity. The country has a strong financial sector centred in Vaduz. It was once known as a billionaire tax haven, but is no longer on any official blacklists of uncooperative tax haven countries. An Alpine country, Liechtenstein is mountainous, making it a winter sport destination.
Liechtenstein is a member of the United Nations, the European Free Trade Association, and the Council of Europe. Although not a member of the European Union, it participates in both the Schengen Area and the European Economic Area. It has a customs union and also a monetary union with Switzerland.