This is a collection of Sandalsand's pictures from Taiwan. Most images are from Taipei, in addition to Taroko Gorge and Alishan in central parts of the country.
If you look up all articles from Taiwan, you will only find regular travelogues. Before anything else, start with these pictures from Taiwan.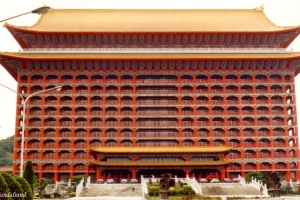 The visit to the island of Taiwan off the coast of mainland China is represented by a selection of photos from the capital of Taipei and the mountains in central Taiwan.
14 Photos
Afterwards, find more photo galleries on Sandalsand. 
Fast facts
Learn about the country on Wikipedia. Here is a moderated excerpt:
Taiwan, officially the Republic of China (ROC), is a country in East Asia. It sits at the junction of the East and South China Seas in the northwestern Pacific Ocean, neighboring the People's Republic of China (PRC) to the northwest, Japan to the northeast, and also the Philippines to the south. The territories controlled by the ROC consists of 168 islands with a combined area of 36,193 square kilometres. The main island of Taiwan, formerly known as Formosa, has an area of 35,808 square kilometres. Mountain ranges dominate the eastern two-thirds and plains the western third. The capital is Taipei, which, along with New Taipei City and Keelung, forms the largest metropolitan area of Taiwan. Other major cities include Kaohsiung, Taichung, Tainan, and Taoyuan. With 23.45 million inhabitants, Taiwan is among the most densely populated countries in the world.
In the early 1960s, Taiwan entered a period of rapid economic growth and industrialisation called the "Taiwan Miracle". In the late 1980s and early 1990s, the ROC transitioned from a one-party military dictatorship to a multi-party democracy with a semi-presidential system. Taiwan's export-oriented industrial economy is the 21st-largest in the world by nominal GDP, and also 20th-largest by PPP measures, with major contributions from steel, machinery, electronics and chemicals manufacturing. Taiwan is a developed country, ranking 15th in GDP per capita. It is ranked highly in terms of political and civil liberties, education, health care as well as human development.